St David's Picture Archive
Page 2
More pics for you - I really can't remember who everyone is.
Please accept my apologies. It's an old age thing apparently :-)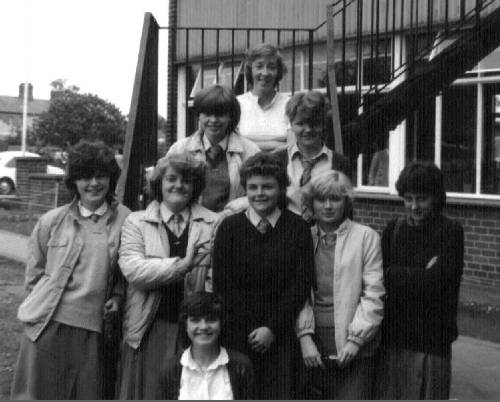 Miss Ruddalls class (chemistry or biology?)
I received an email from Philipa (Pip) Grieves, who wrote:
"I'm on the far left, to the left of Miss Ruddall is Debra Fisher, next to me I think is Nigel Moores twin sister(not sure), next to her is Barbara Williams, then Sue Roberts."
Thanks for getting in touch Philippa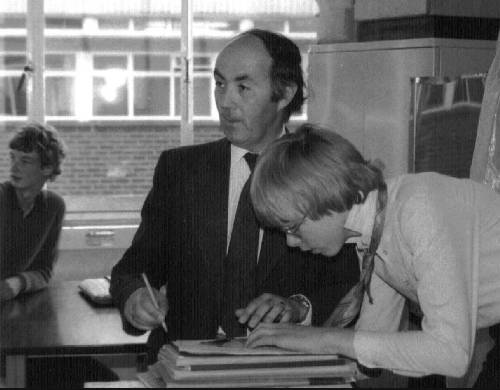 John Rawcliffe gets an autograph from Mr D.F.Jones (Computer Studies)
In the background it looks like Simon Hall. Weird to think that in those
days a BBC Micro was rarely seen in a school. We had to make do with
an ageing Olivetti TeleType linked by acoustic modem to Kelsterton !
Actually, DF signed Johns tie come to think about it !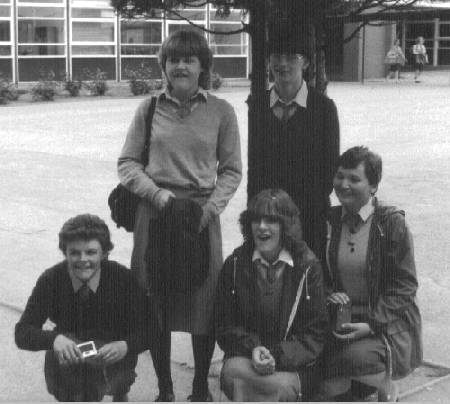 A nice group photo.
Standing (rear row) from L to R :- Fiona ?, Richard (Dickie) Jones
Crouched (front row) :- Barbara Williams , Rachel Walker, Deborah Hawkes
(If anyone is in touch with Rachel please let me know. I owe her a huge debt of gratitude for being such a good friend when I was very travel sick on a school trip.)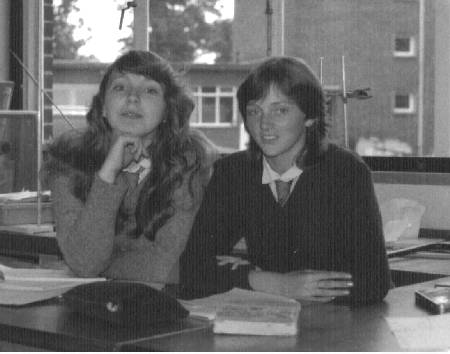 Mr Gilpins Physics lesson !
L to R:- Heidi Pordidge, ?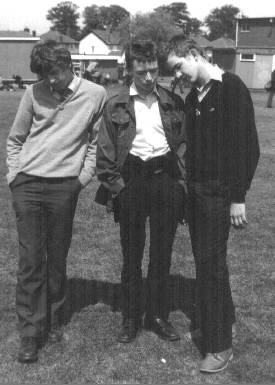 A snap influenced by the Sex Pistols
L to R:- David Jennings, ? , Andrew Snowdon
Not taken in St Davids, but we all went there (and its a colour pic !)
From L to R :- Me ! , Joanne Tudor , Rhian Blore , Amanda Cardiff , Julian Parrott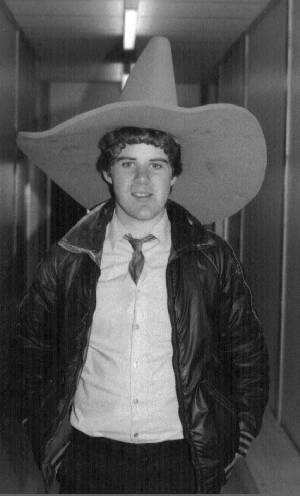 The irrepressible Jonathan Pierce (Bonzo) !
Please let me know if you spot an error, or just get in touch for the heck of it !
e-mail to: emjay111@hotmail.com
All photos copyright Marcus Jones - no unauthorised reproduction allowed without prior consent.